If you had to keep all of the plastic that you ever bought, in your own home, would you still buy it?
I'm pretty sure I know what your answer is, but it's a great question to ask yourself when faced with when buying something new. We often do this as a family, to think about whether we NEED or WANT something, or if there is a simple alternative. The answer isn't always easy!!! But it has helped us make some changes.  This year, we are going to attempt to stop buying clothes for the month – then when July is over, as a family, we will be looking for ways to buy preloved, unloved and clothes that use natural fibres like cotton instead.  Fingers crossed. It's really important to us that the squids grow up learning that these things are important.
The history of Plastic Free July
PFJ first took place in 2011, in Australia, by Rebecca Prince-Ruiz and a local government team, as a grassroots initiative.  Since then, it has become a global campaign, with millions of people taking part worldwide, every year.  This year's theme is 'Small Steps make a Big Difference!'  I love this theme because it takes the pressure off trying to be perfect all of the time, and drops a massive hint that it's totally ok to make small, manageable changes at a time! There's no judgement here, just support to help you make those steps that you want to.
Why take part in Plastic Free July 2023?
BECAUSE WE LOVE PLASTIC!!! There are so many reasons, these are just a few:
There is no 'away,' our plastic has to go somewhere. Whether we burn it, bury it, recycle it, there is a longer lasting impact;
8 billion tonnes of plastic has been produced since the 1950s, half of that in the last 15 years;
Plastic production is still set to double by 2050;
Only 14% of our plastic actually reaches a recycling plant, with 9% of it being recycled (either because of contamination or its strength).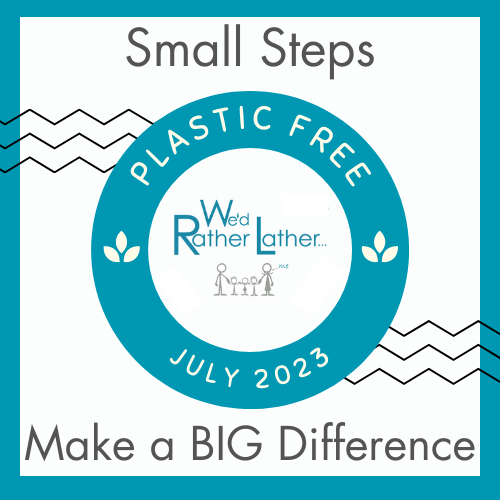 What will you ditch for Plastic Free July? 
Will you take part in We'd Rather Lather's Plastic Free July challenge this year? All we want you to do is try to give up one type of plastic that you use either at home or work.  For example, buying those fizzy drink bottles or prepacked sandwiches maybe.  Or perhaps you live near a refill station and can start getting your washing-up liquid refilled instead.
Whatever you decide to ditch for PFJ in 2023, let us know how you get on and join the chat in our Facebook group (because we're not perfect, we're just doing the best we can)! Click on the link below.
Squids Take Over the Internet
Your content goes here. Edit or remove this text inline or in the module Content settings. You can also style every aspect of this content in the module Design settings and even apply custom CSS to this text in the module Advanced settings.